Dayton Car Accident Lawyer Anthony Castelli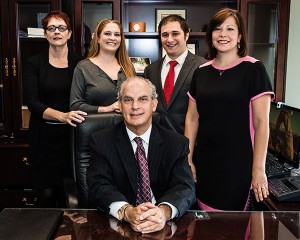 With over 30 years of experience helping car accident victims, and having handled thousands of injury cases, Dayton car accident lawyer Anthony Castelli is ready to help you and your family during this very difficult time. Not only does Mr. Castelli know car accidents and the law, he understands the life-altering injuries that are so often involved and how they can affect you and your loved ones forever. Please do not hesitate to call.
Background
Anthony started his career helping abused and neglected children working for the "welfare" department. He always enjoyed helping others and was encouraged by his grandmother who worked for a congressman and Mayor of Cincinnati as a legal secretary to go to law school.
He went to law school in the evening and worked as a law clerk for his mentor Walter Beall during the day. In his early years as a young lawyer,  Anthony also took public defender appointments to get Court room and trial experience. His first civil trial was in Judge Moser's Court Room in Butler County, Ohio for a neck strain caused by a car accident. He soon "graduated" to more complex trials. He tried a wrongful death product liability claim several years later in Judge Moser's Court Room and was awarded $1,750,000.00. This case went all the way to the Ohio Supreme Court.
Memberships
Anthony is a member of the Southwest Ohio Trial lawyers Association, the American Association for Justice, the Ohio Association for Justice and is a proud member of the Circle of Legal Trust.
Community Involvement
He has been on the board of trustees of Power Inspires Progress and Serenity house. He has mentored high school youth. He has taught introduction to basketball to first and second grade boys and girls at his Church. He has coached youth basketball at his children's school as well as at the public recreation commission.
Author and Lecturer
He has authored Attorney Advertising Revealed and The Ohio Motorcycle Bible. He has co-authored with 14 other lawyer an Amazon best seller's listed book called Wolf in sheep's clothing about insurance company tricks and traps. he has lectured attorneys on Evidence and Trial Practice.
Awards and Ranking
Anthony has been listed as an Ohio Super Lawyer in personal injury. He has a preeminent rating from Martindale Hubbell and a superb rating from AVVO.
Personal Attention
Although he has an excellent support staff including legal assistants and a Registered Nurse case manager to assist in the preparation of your Dayton car accident claim, you will always deal directly with Mr. Castelli. His priority, and that of his entire staff, is client satisfaction. You can expect to have your phone calls returned promptly, to be treated with courtesy and respect, and to be kept up-to-date on the progress of your case at all times.
Here to Help You
We offer flexible hours so that pursuing your car accident case does not create an even greater burden for you. If you need to meet in the evening or on a Saturday, we are happy to accommodate. And, if your injuries mean that coming into the office is unreasonable, Dayton car accident lawyer Castelli can meet with you in your home or the hospital.
Preparing for Trial
The majority of car accident cases ultimately settle out of court, but to get the highest settlement possible and just in case you cannot reach a fair settlement agreement, Mr. Castelli prepares each case as if it were going to trial.
Mr. Castelli will pursue all sources of compensation for your injuries, and understands the multiple theories of law on which your case may be based. He has recovered millions of dollars on behalf of his clients and is ready to help you.
If you or a loved one has been seriously injured or killed in a car accident in Dayton or anywhere in Ohio, please call Dayton car accident lawyer Anthony Castelli at 1-800-447-6549 or submit an online questionnaire.
Office Locations and Practice area.
Anthony practices throughout Ohio with office locations and meeting facilities in Dayton, Columbus, West Chester Ohio and Cincinnati. If you can not get to Anthony he will come to you.